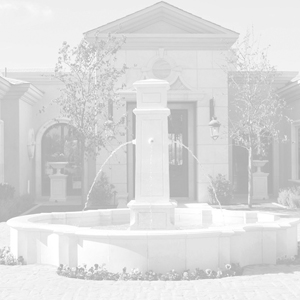 Stone Fountains
Custom Stone Fountains
A well-crafted and beautiful custom stone fountain can provide a picturesque and inspiring touch to any home or commercial property. With options to choose from a variety of natural and cast stone materials and the freedom of custom design, you can install stone fountains with an outstanding range of shapes, sizes, textures, and finishes.
Custom stone fountains can feature a wide array of naturally occurring colors and can be as simple as a bowl-like shape with natural stone and rough edges or as intricate and ornate as a cast stone fountain with statuary and highly polished textures.
Stone material provides exceptional freedom to carve and shape custom fountains to suit your unique architectural style and design vision, and custom stone fountains are ideal fit for outdoor patio areas and gardens or even the interior of a contemporary home or office.
At AST Stone, we offer leading expertise in the design, manufacture, and installation of stone fountains, and we have worked with designers, architects and private clients for nearly 25 years in realizing their design dreams.
Our experts can consult with you to help you choose the right stone, colors, styles, and finishes to create a custom stone fountain to suit your unique needs and your budget. From planning and 3-D modeling and design to the final production, installation, and care of your stone fountain, we offer full-service support and guidance.
Feel free to browse through the samples of our stone materials and our workmanship, and see for yourself some of the dazzling possibilities of custom stone fountains.
Contact us today to learn more about our custom stone fountains and to request a free consultation and estimate for your residential or commercial project.